FC400-CCL
DIN-rail mount weighing indicator with CC-Link interface
Product outline
FC400-CCL is a weighing indicator equipped as standard with CC-Link interface. It is ideal for a variety of weighing applications like hopper scales, bagging machines, and level meters.
Network with multiple units can be configured easily.
Lightweight and compact body to fit into limited space in a control panel
Light weight & compact body for 35mm DIN rail mount
Dimensions: 34(W)×88(H)×91(D)mm (Projections excluded)
Weight: Approx. 210g
Various interfaces
Equipped with CC-link, RS-485, and USB interface!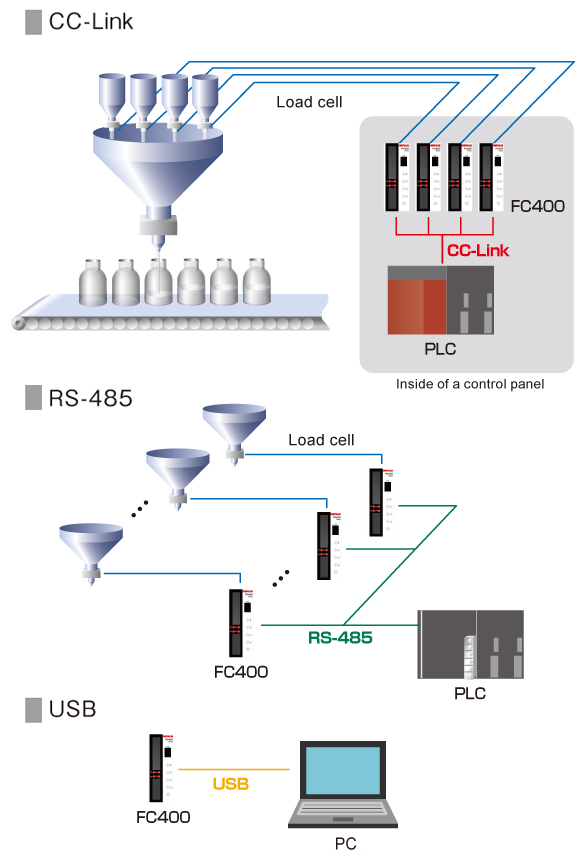 High sampling rate & resolution
High-Speed A/D conversion and powerful digital processing capability of 1200 times/sec.
High display resolution of 1/100000 (max).
Measurement can be performed quickly and precisely due to high speed A/D conversion.
Various functions useful for automated weighing systems
■ High performance filter
As it is resistant to vibration, measurement can be performed quickly and precisely.
■ Auto filter adjustment
The filter is automatically adjusted to reduce the noise when the auto adjustment key is pressed.
■ Equivalent input calibration
Theoretical calibration can be performed easily by registering the capacity and rated output of load cells.
■ Multipoint calibration (linearization)
Three additional points can be defined in the middle between zero and span for better linearity.
■ Input conversion value display
The output signal level of the connected load cell can be displayed in mV/V/ for monitor purpose.
■ Basic weighing process control function
Sequential control can be performed without connecting external PLC etc.
Specifications
Analog section|Display section|External signal|Interface|General performance|Attachments
Analog section

Excitation voltage
DC5V±5% Output current: 90mA
Ratiometric method (Up to 6 350Ω load cells can be connected in parallel)
Signal input range
-2.5 to 5.1mV/V
Zero adjustment range
Automatic adjustment by digital processing -0.5 to 2.0mV/V
Span adjustment range

Automatic adjustment by digital processing 0.02 to 3.0mV/V

Gain correction
Up to three point multi-point calibration is possible using linearization function
Min. input sensitivity
0.15μV/count
Accuracy
Non-linearity: within 0.01%FS
Zero drift: 0.0002%FS/℃ Typ
Gain drift: 1ppm/℃ Typ
Filter
Digital low-pass filter: 0.1 to 300 Hz
Moving average filter: OFF, 2 to 512 times
A/D converter
Speed: 1200 times/sec.
Resolution: 24bit binary
Display section

Display unit
Character height 8mm, Numerical display by 7-segment green LED
Display value
Up to 6 digits
Display frequency
Selectable from 3, 6, 13, 25 times/sec.
Status display
RUN, SD, RD, ERR
External signal

Output signal
(5)
Selectable/configurable
Transistor's open collector output
Vceo=30V, Ic=50mA
Input signal
(3)
Selectable/configurable
Input is ON when shorted to COM terminal by contact (relay switch, etc.)
or non contact (transistor, open collector, etc.).
* DC24V external power supply is required.
Interface

USB
USB interface
485
RS-485 interface (Selectable from Modbus-RTU or UNI-Format)
CCL
CC-Link interface
General performance

Power supply voltage
DC24V (±15%)
Power consumption
3W typ
Operating conditions
Temperature: Operating temperature range: -10℃ to +50℃
Storage temperature range: -20℃ to +85℃
Humidity: 85%RH or less (non-condensing)
Dimensions
34(W)×88(H)×91(D)mm (Projections excluded)
Weight
Approx. 210g
Attachments

Jumper cable
2
Mini driver
1
CC-Link connector
1
Various I/O connector
2
Quick manual
2
Download
User registration is required to download operation manuals, external dimentions, support tools and software.
Acrobat Reader software from Adobe Systems is required to view PDF files.