Displacement measurement
Our displacement sensor product line includes capacitive type with 0.3nm resolution and non-contact fiber optic type with 3MHz bandwidth. Those are used for ultra-precision positioning, gap measurement, runout measurement, flatness measurement, vibration measurement, and more.
Digital Contact Sensor.
ULE-50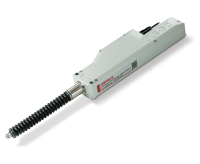 ULE-50 is a digital contact sensor designed for use with FS2000 and F381A-LDI.
50mm stroke for various workpieces.
Robotic cable for installation on moving parts.