ULE-50
Digital Contact Sensor
Product outline
ULE-50 is a digital contact sensor designed for use with FS2000 and F381A-LDI.
50mm stroke for various workpieces.
Robotic cable for installation on moving parts.
Ideal for use with FS2000,F381A-LDI indicator.
By using it with a load cell and "FS2000,F381A-LDI" force vs. displacement measurement can be performed!!!
Features
Seemless connection

It can be directly connected to our indicators with a cable only.

Since, no amplifier is required, cable installation can be performed easily.

Wide measuring range & high-accuracy

Stroke: 50mm.

Resulotion: 2.5µm.

High noise immunity.

RS-422 output type with the enhanced noise immunity.

Applcations

-Force Vs displacement measurement (with our load cells and indicators).

-Accuracy check of positioning stages.

-Height measurement after riveting or crimping.

-Screw height inspection.
Example of use : Press-fitting with force vs. displacement measurement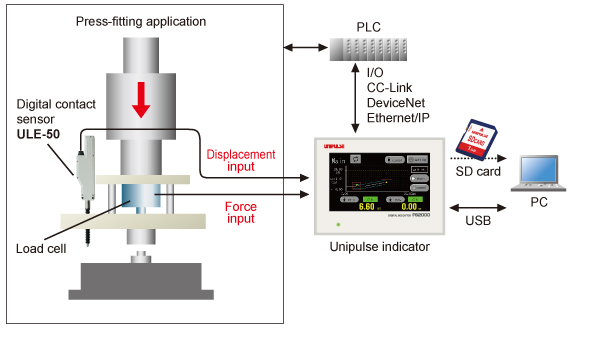 Specifications
Model
ULE-50
Displacement measurement method
Optical incremental linear encoder
Measurement range
50mm
Measurement resolution
10μm (When connected to a UNIPULSE indicator (F381A-LDI or FS2000) : 2.5μm)
Measurement accuracy
10μm or less
Response speed
500mm/s
Contact measurement capacity
When installed vertically downward: Approx. 2.8N
When installed horizontally: Approx. 2.6N
When installed vertically upward: Approx. 2.3N
Output signal
Differential line driver signal with 90° phase difference (RS-422A compliant)
Output pulse
AB-phase pulse 5000 pulse/50mm (10μm/pulse)
Z-phase pulse Origin signal will start to be output as the probe is being pushed to a position of 1mm from the position when it is laid freely.


Operating temperature range
-10℃ to +40℃ (No icing/condensation)
Storage temperature range
-20℃ to +60℃ (No icing/condensation)
Dustproof and waterproof
Equivalent to IP65
Probe
φ3mm steel ball (mounting screw: M2.5 (P=0.45), screw length 6mm)
Stem diameter
φ12mm
Connector
Body: HR30-7R-12P (71) Cable: HR30-7P-12S (71)
Cable
Robot cable (Length 2 m)
Weight
Approx. 350g
Power supply voltage
DC4.5 to 30V
Current consumption
Approx. 0.1A or less
Attachments
Connection cable (Robot cable: Length 2 m)
Sliding endurance
Over 10 million times (according to our durability test)
External dimension
Download
User registration is required to download operation manuals, external dimentions, support tools and software.
Acrobat Reader software from Adobe Systems is required to view PDF files.