UBFH
Compression type loadcell
Product outline
Easy to use low profile center hole load cell!
Capacity 1kN / 2kN / 5kN
Suitable for measurement of axial bolt force, press-fitting, and caulking.
Specifications
Model
UBFH-1KN
UBFH-2KN
UBFH-5KN
Rated capacity
1KN
2KN
5KN
Rated output
1±15%
mV/V
Safe overload
150
%R.C.
Zero balance
±10
%R.O.
Non-linearity
0.1
0.2
%R.O.
Hysteresis
0.2
%R.O.
Repeatability
0.1
%R.O.
Compensated temperature range
-10 to +60
℃
Safe temperature range
-10 to +70
℃
Temperature effect on zero
0.3
%R.O./10℃
Temperature effect on span
0.2
%R.O./10℃
Input resistance
Approx.1000
Ω
Output resistance
Approx.1000
Ω
Recommended excitation voltage
10
V(AC,DC)
Maximum excitation voltage
15
V(AC,DC)
Insulation resistance
1000 or more
MΩ
Cable
φ3.8mm 4-conductor flexible cable (3m)
Cable color code
+EXC:Red
+SIG:Green
-EXC:Black
-SIG:White
SHIELD:Yellow
Deflection at rated
0.03
mm
Natural frequency
5.0
7.3
11
kHz
Loadcell material
Stainless steel
Weight
Approx.280
g
External dimension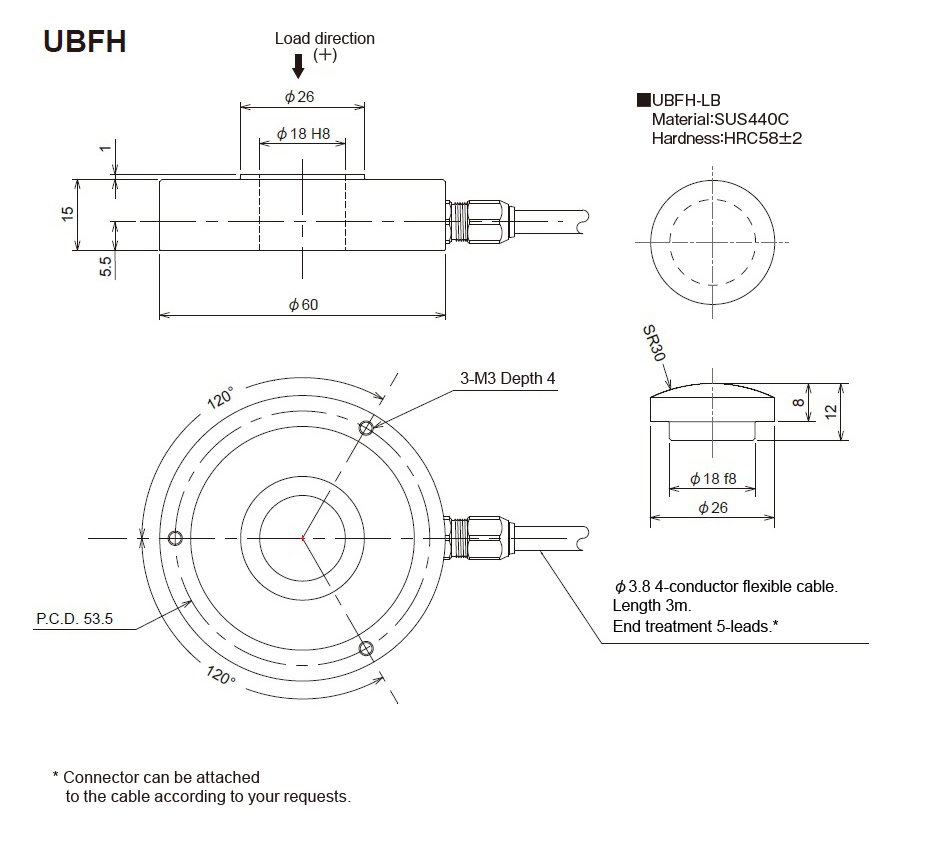 Download
User registration is required to download operation manuals, external dimentions, support tools and software.
Acrobat Reader software from Adobe Systems is required to view PDF files.