USM
Tension/compression type load cell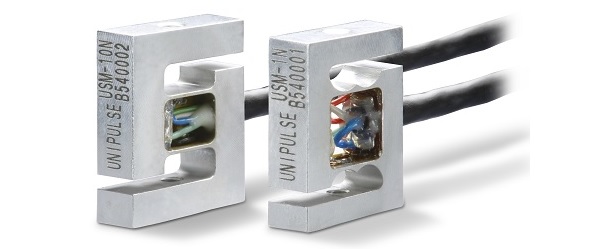 Product outline
Safe overload of 500% ! Miniature tension/compression loadcell.
Capacity 1 N / 2 N / 5 N / 10 N / 20 N / 50 N.
Ultra-compact size: 11W×14H×4D mm.
Safe overload rating of 500% !!.
Suitable for measurement of thread tension and plunger force for needle and syringe.
Very compact
Space-saving design. Ideal for side-by-side installation too.
Easy to install
Two tapped holes at both hands enable easier connections to the actuator.
Great durability
Loadcell frequently gets damaged especially in small force measurement, and cable is easily broken.
Safe overload of 500%! Using high durability robot cable!
Specifications
Model
USM-1N 
USM-2N
USM-5N 
USM-10N 
USM-20N 
USM-50N
Rated capacity
1, 2
5, 10, 20, 50
N
Rated output
Approx. 0.4
mV/V
Safe overload
500
%R.C.
Zero balance
0.3
mV/V
Non-linearity
0.2
0.1
%R.O.
Hysteresis
0.2
0.1
%R.O.
Repeatability
0.1
%R.O.
Compensated temperature range
-10 to +60
℃
Safe temperature range
-20 to +70
℃
Temperature effect on zero
±1
%R.O./10℃
Temperature effect on span
±1
%R.O./10℃
Input resistance
Approx. 1000
Ω
Output resistance
Approx. 1000
Ω
Recommended excitation voltage
5
V
Insulation resistance
1000 or more
MΩ
Cable
φ2mm 4-conductor flexible cable (1m) Cable end: 5 wires
Cable color code
+EXC:Red
+SIG:Green
-EXC:(Black/Blue)
-SIG:White
SHIELD
Loadcell material
Aluminum alloy
Deflection at rated
1N:0.006
2N:0.007
5N:0.005
10N:0.011
20N:0.011
50N: 0.023
mm
Natural frequency
1N:2.7
2N:3.1
5N:3.8
10N:3.3
20N:4.1
50N: 4.3
kHz
Weight
Approx. 2 (Excluding the cable)
Approx. 3 (Excluding the cable)
kg
External dimension
Download
User registration is required to download operation manuals, external dimentions, support tools and software.
Acrobat Reader software from Adobe Systems is required to view PDF files.